Our first Green Briefing is now available and concerns the analysis and planning that has been done to improve the quality of the green.
As most bowli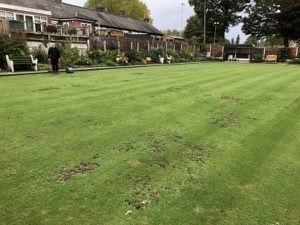 ng green keepers know well the 2018 weather made it a challenging year to keep their green in top condition. Many conversations took place at the club about the pace of the green and the surface smoothness, or otherwise!
The green team has taken the comments seriously and taken the time to define the problems objectively, analyse the root causes and develop a robust renovation plan. The plan was presented to the club committee who were unanimous in endorsing its implementation and approved the necessary investment to make it happen.
Immediately the season ended the green team commenced work on the plan and club members who are interested in learning more about the autumn/winter program can go to the Members Area to read our Green Briefings
THE GREEN TEAM