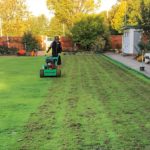 The autumn/winter work program is now in full swing to prepare for next season. This year the club committee is making a significant investment in the development of the green. It will need a little patience but we are determined to produce a green that all members will enjoy playing on.
To that end the green team has started an intensive renovation program. Contractors were hired to perform heavy duty linear aeration and solid tining to improve drainage and open up the soil to enable subsequent treatments to effectively penetrate into the rootzone.
Following this work we have been spreading slow release granular treatments which have been brushed into the holes from the aeration operations. Two spray treatments were also applied in October and will continue through November.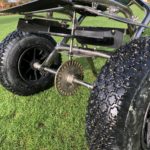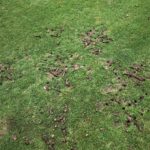 A lot of manual work has gone into hollow tining and cultivating the dreaded dry patches. Additional treatments were applied followed by hand seeding and repair with a sieved mix of fine soil and top dressing. Then green was rolled to bed in the seeds and now we just hope that the autumn weather is kind to us and we get some new green shoots showing before the winter sets in!
Club members who are interested to learn more about the autumn/winter program can go to the Members Area to read our Green Briefings
THE GREEN TEAM