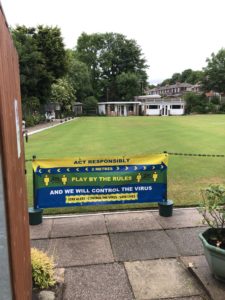 The club has been awarded £5,000 by Sport England to help us through the current Covid-19 pandemic
Our thanks go to Anita York, our Secretary and Mike Glass, Treasurer who did some outstanding work to put together a strong case to win this grant from National Lottery funding from Sport England's Community Emergency Fund.
The grant will help us continue with the planned maintenance of the green, cover the costs of opening the green under Covid-19 restrictions and meet other operating costs at a time when we are experiencing short-term financial constraints. This grant, along with the generous donations received from members means a great deal to the club and places us in a much less risky financial status for next year.
 Tim Hollingsworth, Sport England's Chief Executive, said:
" As the body responsible for the growth of sport and physical activity participation, we want the vital grassroots organisations that make sport and physical activity happen in this country to not just come through this crisis but to be in a position to thrive again in the future. The £20m Community Emergency fund, made possible by National Lottery players is part of a multimillion pound package of support we are providing to ease the pressure on a huge number of the organisations who are central to the nations health and wellbeing.
We are proud to be able to provide vital funding to Penketh Bowling Club to help it through these extremely challenging times"
On behalf of all our members, thank you Sport England!