PLAYING BOWLS UNDER COVID19 REGULATIONS
Penketh Bowling Club – Opening the Green
Great news! I am very pleased to be able to tell you that your bowling green will open for play from Monday June 8th, 11am to 8pm daily
Since the government relaxed the guidelines on exercise and the British Crown Green Bowling Association provided specific details for bowling we have been working through a plan for the opening. Having completed that work the committee is now satisfied that it is able to provide a safe system for play which is in accordance with the advice received.
Attached to this email are the Rules for Play. Playing by the rules is crucial to ensuring the health and wellbeing of all members. Please read them carefully and put a copy in your bowls bag for reference.
Committee members will make random visits to the green to fulfil our responsibility for monitoring and assessing how the rules are working in practice. However, we do not have the resources necessary to provide full time supervision at the green. We are therefore trusting in the behaviour of individual members to make the system work for everybody and allow members to enjoy their bowling safely.
I understand that some members may be wary of venturing out to play at this time and want more assurance that it is safe to do so. I believe that everything has been done by the club to meet the current guidelines, however, members must recognise that it is not possible to guarantee a completely risk free environment when they are deciding whether or not to play bowls.
I appeal to all members to act responsibly, respect the rules of play and avoid the spread of this virus. The government has indicated that there will be increased penalties for breaches of its Coronavirus (Covid 19) guidelines.  In the event of non-compliance it would be necessary for the committee to take action to protect the reputation of the club.
Most importantly it will necessary for you to have made a booking via our website before attending the green.  The booking system will require confirmation that you have read and will comply with the Rules of Play before the booking will be accepted.
I hope you will enjoy the opportunity to play bowls once again and look forward to seeing you at the green sometime – with the correct social distancing of course!
Finally, I would like to thank all the members who generously gave donations to the upkeep of the club at a difficult time and when it was not even clear that we would be able to open at all this year. I appeal to members who have not yet made a contribution and would now like to play to consider making a donation.
Les Mason,
Chairman Penketh Bowling Club

Penketh Bowling Club—Rules of Play
Download latest copy: PBC Rules of Play_issue1.1_01.06.2020
Introduction
We appeal to all members to act responsibly, follow the rules of play and avoid the spread of the virus. The government has indicated that there will be increased penalties for breaches of its Coronavirus (Covid19) guidelines.  In the event of non-compliance it will be necessary for the committee to take action to ensure the reputation of the club is protected.
Despite the restrictions we hope that you will still be able to come out and enjoy the bowling that is on offer.
General
You may only play if you are a member of the club
No spectators or markers are allowed entry to the green
Organisation of competitive bowling is prohibited
Pay attention to signs around the green which are there to help you stay safe
Hygiene
Club equipment will not be available for use
To avoid the possible transmission of the virus through the exchange of equipment you must only use your own equipment brought from home
Sterilise equipment before and after use.
Keep strict social distancing measures in place – you must at all times remain at a safe distance (2 metres) from people outside of your household.
Avoid congregating in the shelters around the green where social distancing guidelines of 2 metres between individuals could be easily breached.
Be careful about touching solid surfaces e.g. gates, seating, doors, etc. Use a hand sanitiser after touching commonly used surfaces like touch pad gate locks.
Carrying a personal hand sanitiser would be preferable however, as a back up, there will be hand sanitisers installed in various positions around the green.
Follow strong hygiene practices at every opportunity – wash your hands as soon as you get home, avoid touching your face.
Before attending the green go to website: http://penketh.bowls-club.co.uk/
You must use the Green Bookings system provided on the club website to reserve a date and time to play. The login password is: booktobowl
A session of bowling is one hour duration
Members are limited to playing one session in a day
A maximum of four blocks are available in a session
A maximum of two players are allowed per block
If you do not have internet access please contact a friend in the club who would be willing to make a booking for you.
To protect vulnerable groups playing together in mixed age groups should be avoided:

Juniors should only arrange to play with a member of their household
Over 70's should only arrange to play with members of their own age group
Do not turn up at the green without prior confirmation of your booking from the club
At the green
Arrive at the green no earlier than ten minutes before your booking time and go directly to the starting point for your block.
Do not try to enter the clubhouse, or any facility (including toilets) which is part of the club.
When two players from separate households are playing together:

Each player must use their own bowls, jack and mat
To facilitate social distancing we suggest the lead player, with the second player standing 2 metres behind, delivers both their bowls. They then pick up their mat and move away leaving the second player clear to place their mat and deliver their bowls.
If you choose to play another way social distancing and hygiene rules must be strictly maintained
Play into the open spaces on the green to maintain social distancing from other groups on the green.

Be considerate of others and keep strictly to your time limit of one hour on the green.
Once you have completed your session, please depart as soon as you safely can to enable others to access the green.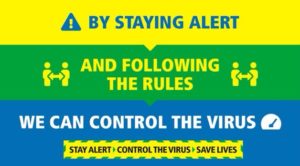 The guidance issued by the British Crown Green Bowling Association provided a suggested Action Plan/ Risk Assessment to be used in conjunction with advice from the Government.  It was intended as a guide to clubs to safely consider all the risks associated with reopening their green. 
It was made clear that each club would have to make their own assessment of the safety in opening their green based on local circumstances.
Since the government relaxed the guidance for a return to sport on 14th May the committee have been tracking the emerging guidelines from the bowling associations and drawing up a specific action plan and risk assessment in order for us to make the decision to open the green.
A draft action plan and risk assessment for Penketh Bowling Club to assure our compliance with the regulations was circulated to committee members for comment. A process which required a significant amount of work and deliberation before being satisfied that an opening of the green could be achieved under a defined set of conditions for our club.
Having announced the start of bowling it now becomes the responsibility of all members to behave in accordance with the rules so that we can all enjoy our bowling and stay safe in these challenging circumstances.
The committee have an on going duty to monitor the situation and call out any breaches of the rules. However, we have limited resources and are trusting that the membership will respond positively to the Rules of Play we have published. We will also keep all the rules under review as we learn more about how things work in practice and will make adjustments where they make things easier for the membership and it is safe to do so.
The following sources were the points of reference and guidance in constructing the action plan and risk assessment for the club:
   British Crown Green Bowling Association (BCGBA)