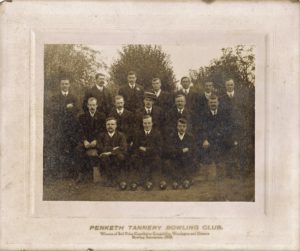 There has been a bowling green at Penketh Park for over 100 years.  It was once part of the many sports facilities provided by The Tannery.  After the Tannery closed the green remained as a popular place for bowlers to meet and relax after a hard day's work.  This tradition continues to this day.  In the pavilion there is this photograph of a winning team dating from 1912.
An independent club was formed and in 1982 the land was deeded to the members with the proviso that the Bowling Green remains as a facility for the people of Penketh and the surrounding area.
The green and garden has been lovingly tended and cared for by a succession of dedicated volunteers in order to give us a beautiful and relaxing venue for bowling.
As a long established club we also have a proud heritage of honorary membership which is granted to members with ten years membership on reaching the age of 80. Many of these club veterans are still active and others who no longer play still visit the green to see old friends, enjoy a cup of tea and watch some bowling.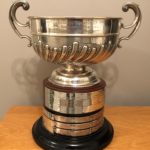 Friendl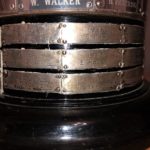 y club competitions amongst members have been a feature for many years. Our oldest trophy, the Penketh Tanning Co Challenge Bowl goes back to the 1930s and is still being contested by today's members